It took an hour to travel three blocks. I kept stopping to take photograph after photograph: the tiled arch of the old bank and the ornate mission revival-style Hotel Paisano; the low, long, Modernist lines of the post office; weathered painted Coca Cola signs, and the ice factory in ruins. I couldn't get enough.
The Texas desert light was laser-sharp, bouncing around the deserted streets of Marfa, from the whitewashed façade of an old picture-house to the curve of an Airstream trailer cruising slowly down the main drag of Highland Street. Its shadow passed like a curtain across the front of a gallery exhibiting Andy Warhol's recreation of The Last Supper. Even before Donald Judd arrived here in the early 1970s with an art movement that would become a lifestyle cult, Marfa has been a place where less is more, and less is beautiful.
It's a drive-and-a-half to what must be the world's most unlikely art pilgrimage site. Back in 2003, John Waters created a tongue in cheek "Visit Marfa" poster which branded the place "The Jonestown of Minimalism", adding "It's a L-O-O-O-O-N-G DRIVE!" and "YOU CAN'T FLY THERE!" Both are true, but as road trips go, the journey is the thing. You can change planes in Dallas and fly to El Paso, then drive for three hours; or you can fly to Austin – infinitely more fun – and drive for seven, breaking the journey at Lum's gas station and barbecue to eat a pulled pork sandwich that's as charcoal-infused as sucking on a briquette, and to marvel at the monthly rates advertised by dodgy motels that you wouldn't want to spend 10 minutes in.
Austin might be the perfect American city: pretty, progressive, warm and artsy, fizzing with zeitgeist. It shares much of Marfa's hipness, but on an exploded scale. I slept overnight at the grand old Driskill Hotel, Austin's most elegant downtown landmark. Its rock'n'roll pedigree is as storied as its ballrooms and picturesque bank-vault door, and it's haunted, apparently.
In pictures: Marfa's Modernist art
In pictures: Marfa's Modernist art
1/7

Marfa's Modernist art

Prada Marfa (Mark C O'Flaherty)

Mark C O'Flaherty

2/7

Marfa's Modernist art

Chinati Foundation (Mark C O'Flaherty)

Mark C O'Flaherty

3/7

Marfa's Modernist art

Old movie theatre (Mark C O'Flaherty)

Mark C O'Flaherty

4/7

Marfa's Modernist art

Dan Flavin installation at Chinati Foundation (Mark C O'Flaherty)

Mark C O'Flaherty

5/7

Hotel Paisano (Mark C O'Flaherty)

Mark C O'Flaherty

6/7

Marfa map

Texas

7/7

Marfa's Modernist art

Desert art: Marfa's old petrol station

Mark C O'Flaherty
Earlier, I lunched in the sunny backyard of a pitch-dark dive bar, The Liberty: steamed and fried sweet curry buns from Paul Qui's permanently parked East Side King food truck. Later, after a crawl through some of the fairy-light strewn patios of the bars on pretty Rainey Street, I went to Qui, the chef's eponymous fine dining restaurant. It mixes his Filipino roots with Japanese flair and down-home Southern style, set to a soundtrack of Cat Power and Crystal Castles. The finale, a Vermont cheddar ice cream waffle sandwich with praline, is so spectacular that, in the right hands, it could probably end wars.
The next morning, I picked up a Batman-grey convertible Mustang, kickstarted a playlist with Glen Campbell and set off toward a landscape of oil fields and converging infinity lines. At sunset, 20 minutes from Marfa, the sky turned into a Rothko colour field haze of pink and blue. I parked up, got out and stage whispered "wow!" to nobody in particular: the floral hit from the purple desert flowers is as incredible as it is surprising.
Nightlife in Marfa is, as it should be, odd. You eat early if you don't want to drive half an hour east to the town of Alpine, and the only place doing anything more interesting than a burger is Cochineal, where a wedge salad comes with "all the fixins" and Texan quail sits on a cushion of blackcurrant velouté.
Later on, there are margaritas and dancing at Padre's, a rowdy dive in an old funeral parlour (the old chapel pews serve as seating), and irony-free Stetsons abound. There is country, western and beer over at the Lost Horse Saloon, where the landlord wears an eyepatch and kicks the bonfires into shape in the yard with a well-aimed cowboy boot, and occasionally there are live bands at the Marfa Ballroom.
The other main nighttime attraction is the Marfa Lights, a sort of minimalist aurora borealis. It's a big deal: they built a viewing station in the desert for them and the lights obligingly appear nightly: white balls of light rising and falling on the horizon. They're also, as far as I could tell, very obviously car headlights. Another line from that John Waters poster: "Pretend to See The MARFA LIGHTS."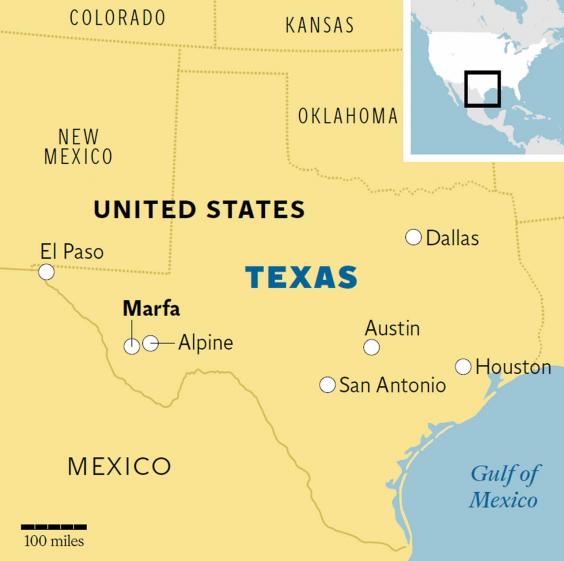 I split my time and accommodation in town between El Cosmico, which resembles a non-stop music-festival campsite (it actually hosts one, the Trans-Peco, in September), with retro-styled trailers and permanently erected yurts and safari tents (you can also bring your own), and the historic El Paisano. On my first night at El Cosmico, I was woken by what could have been a BBC sound effects recording of a steam train being played at full volume outside my tent. "Wait!" I thought, casting my mind back to the epic drive. "You can get here by train?" (You can't, it's only for haulage.)
Hotel Paisano is more sedate. Like the Driskill back in Austin, it represents ye olde, genteel Texas: stately, opulent, tiled and every shade of brown – a celestial steak restaurant. The cast and crew of the 1956 film, Giant, stayed here when filming – something that the management won't let you forget at any turn.
You can breakfast at Squeeze and have coffee at Do Your Thing, hidden away in the multi-space building, The Lumberyard. There's the Foodshark food truck for lunch, and Maiya's for dinner, run by the same people who own Mirth boutique (full of suitably stark design objects). But be warned: all of these things open and close on a whim. Food isn't the focal point of Marfa – it's all about the art.
Donald Judd took over the mothballed Fort D A Russell military camp on the outskirts of Marfa and converted it, between 1979 and 1986, into a series of slick, light-filled spaces to display his reductionist cubes and stark, reflective forms, along with work by sculptor John Chamberlain and conceptual light artist Dan Flavin.
The footprint of the Chinati Foundation is huge – tours take hours, with a break for lunch. Experiencing so many of Judd's pieces, grouped together in these massive artillery sheds (some still with text on the walls in German, from when they were home to PoWs), is unlike anything else you've seen. Perhaps even more incredible is Judd's own private residence in the middle of town, The Block. Here you can experience his library and partially Zen, partially prison-like yard (an artwork in its own right) – and, as Waters emblazons on his "Visit Marfa" poster: "SEE DONALD JUDD'S BED!" The latter is a simple, low, free-standing platform, surrounded by space. There's no headboard. How Judd coped with the constant and maddening falling of his pillows, we'll never know (he died in 1994).
Perhaps Marfa's biggest single art draw today is Elmgreen & Dragset's Prada Marfa, a fake boutique that stands alone on the most graphically barren strip of US-90, just past the hamlet of Valentine. It looks like it just landed, Wizard of Oz style, but it has form: it's been burgled, vandalised, and threatened with removal by the authorities. It was recently restored and looks meticulous once more – an artwork that quite literally stops traffic. I visited at sunset, as storm clouds gathered behind it, and just about every car on the road – admittedly not many, around one every five minutes – stopped, so its passengers could take a picture. On my way out of Marfa, I visited again, purposefully early: the sunrise hits the front of the installation face-on, making it pure and bold against the desert landscape of earth and blue sky. I had it to myself for an hour. It was longer than I'd anticipated staying, but it was so weird, funny, and magical. And I couldn't resist just one more picture.
Getting there
British Airways (0844 493 0787; ba.com/austin) flies from Heathrow to Austin from £583 return.
American Airlines (020 7660 2300; aa.com) flies from Heathrow to El Paso, via Dallas, from £769 return.
Alternative routes to both Austin and El Paso include United from a wide range of UK airports via Newark, Chicago or Houston, and Delta from Heathrow and Manchester via Atlanta.
The writer flew from New York to Austin with Jetblue (jetblue.com) and drove from Austin to Marfa in a car from Avis (avis.com), which offers rentals from £28.60 per day.
Staying there
The Driskill Hotel, Austin (001 512 439 1234; driskillhotel.com). Doubles from $275 (£183), room only.
El Cosmico, Marfa (001 432 729 1950; elcosmico.com). Tents from $96 (£64), room only.
Hotel Paisano, Marfa (001 432 729 3669; hotelpaisano.com). Doubles from $123 (£82), room only.
Visiting there
Lum's Bar-be-que, Junction, Texas (001 325 446 3541).
The Liberty, Austin 001 512 514 0502; thelibertyaustin.com).
Qui, Austin (001 512 436 9626; quiaustin.com).
The Chinati Foundation, Marfa (001 432 729 4362; chinati.org).
Cochineal, Marfa (001 432 729 3300; cochinealmarfa.com).
La Mansana de Chinati/The Block, Marfa (001 432 729 4406; juddfoundation.org).
Padre's, Marfa (001 432 729 4425; padresmarfa.com).
More information
Source : http://www.independent.co.uk/travel/americas/marfa-texas-a-modernist-art-colony-in-the-desert-10444900.html
2197